We want our students to Look after each other, to Enjoy school and its wider offer, to Aim high, to Respect themselves and those around them and to Never stop learning – these are our LEARN values that permeate our school, our curriculum and our ethos.
Through our school curriculum, both the academic and the pastoral, we aim that every child has an equitable experience of school and aim to provide our LEARN values through the following: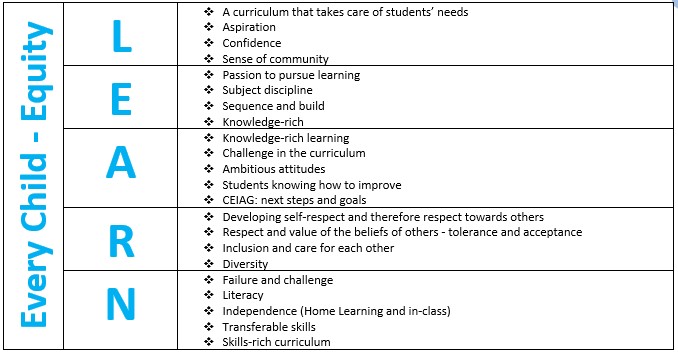 At Westhoughton High School our curriculum is key in allowing all students to gain the knowledge, skills, experiences and opportunity that will aid them in their next steps but also as lifelong learners. We believe that the curriculum, and its opportunities and experiences, will provide core skills and values to equip our students to confidently navigate their next steps beyond schooling with us. We have considered our local context and intake when planning our curriculum, ensuring we support local stakeholders whilst also promoting further awareness and experiences wider than our community.
We built the curriculum with the intent that students will be:
• confident in identifying their voice and how/where it fits in the world
• able to value the process and benefits of learning
• inclusive of the beliefs and values of others
• independent and resilient
• able to take care of themselves in a diverse world
• healthy, safe and fit in mind and body
• able to make independent and informed life choices
• literate and able to communicate effectively
• technically literate and aware
• numerate to ensure financial competencies

Students experience a broad, deep and knowledge-rich curriculum:
Our intention is that our curriculum offers an interlinked, well sequenced journey for our learners where experiences and subject choice is built upon and layered. We continually review our curriculum, not just the breadth of subjects taught but also the content of the curriculum to ensure our students receive the National Curriculum but also opportunities to deepen their knowledge and experiences further. In an ever-changing world, we want to ensure our students are equipped with key transferable skills to navigate their future, our community's future, ensuring all students are equipped with rich knowledge, skills, and experiences to achieve their personal best, improving life chances and employability.
We believe our students have a broad and exciting curriculum at Key Stage 3 and are exposed to a wide range of subjects and opportunities, building steps for equity and inclusion in all that we do. The curriculum builds on KS2 learning, cultural capital and aims to develop a love for learning from which we recognise that we never stop learning. Our school is forging ever-stronger relationships with our community feeder primary schools to ensure that together we ensure the best curriculum for our students, exchanging support to bring about the best in our community.
Every morning our students begin their day with their 30-minute form time activities, setting our students up for the day ahead. Our tutor time LEARN programme offers a wide range of assemblies and activities that address all aspects of inclusion, diversity and equality alongside opportunities to listen, consider and debate, with students encouraged to share their thoughts and beliefs based on a wide range of resources, offering students opportunities for self-reflection and personal growth. Additionally, literacy and numeracy opportunities are built into our weekly LEARN programme to ensure core skills identified by our English and Maths teams are discussed and tackled outside of our English and Maths classrooms. Our tutor time LEARN programme is aimed at supporting our students to become well-rounded, open-minded individuals through a personal development curriculum. We want our students to have a secure awareness and understanding of their own identity and a deep appreciation and respect for others locally, nationally and globally, ready to become reflective citizens in the future. Our LEARN ethos underpins all that we do and through our inclusive practice we want to pledge accessible opportunities for all, ensuring that everyone is valued and accepted for their individual attributes and that there is equity and equality in recognition and reward. We believe this creates a genuine sense of belonging where no individual is missed. The Equality Act (2010) and the nine protected characteristics have formed the platform from which we will develop our inclusive practice in our intent to wipe out discrimination and prejudice in our school and ultimately our community. We aim to raise awareness and foster recognition and acceptance of everyone in our school, creating an inclusive-rich community which encapsulates our diversity and strength in this acceptance.
PSHE is at the heart of our curriculum. Students cover a range of topics notably around real-life and current topics, focused on preparing students for their contributions and existence within society. We are proud of our inclusive, diverse and curious students and seek to further develop these traits and tolerance and understanding whilst also equipping our students to embrace change and challenge. PSHE ensures that students are well-rounded individuals who are able to integrate into society with knowledge and understanding of the wider world. Mental health is equally as important to us as physical health and it is imperative our students find strategies to cope with stress and mental health problems. The WHO estimates that major depression will be the world's second most debilitating disease by 2020, after heart disease. Depressive disorders are directly related to social deprivation and we want to combat this. In the UK 20% of adolescents may experience a mental health problem in any given year whilst suicide remains the most common cause of death for men aged 20-49. These statistics have supported our careful planning of mental health in the curriculum and the support around it alongside many of our staff being trained within the Mental Health First Aid training (MHFA England). The impact from the PSHE lessons and the strong mental health and well-being messages that thread through our PSHE and LEARN programmes also underpin all values and approaches that we undertake at every level towards our staff and students.
We have a range of activities that take place throughout each year group that meet the needs of the Gatsby Benchmarks. These include a professional interview day, careers fairs, work experience college and university visits. Our students access careers sessions through our Careers Advisor within school, alongside curriculum foci within our PSHE and LEARN form time programmes. In these sessions we promote the independence of making choices, labour market information, stereotypes in careers, and transferable skills for success. We also support students with CVs, personal statements and college applications within our KS4 PSHE focus. This allows our students to fully informed when considering future careers, linking it to the local labour markets and even consider those careers that do not exist yet, but will. Bolton is considered the ninth most deprived borough in Greater Manchester. The average wage in Bolton is £21000, one of the lowest in the country. We believe that our curriculum helps tackle the poverty cycle, raise aspirations for our students in the local area and reduce deprivation in Bolton.
Additionally, our extra-curricular offer aims at developing a further passion and subject-discipline within subjects and skills whilst also creating environments whereby a shared interest from staff and students forges our strong relationships in school. At Westhoughton High School we have a vast amount of lunch-time activities as well as after school opportunities for students in all year groups to join. We believe through this, not only are the future Mathematicians and Computer Scientists given an environment and support to develop this passion further, they are also given a place to feel inspired, accepted and challenged. Through these opportunities, we feel that every student has an opportunity to find their strengths and talents, encouraged and enthused to take their passion and interest further. Additionally, we have activities such as the Duke of Edinburgh, Anti-Bullying Ambassadors, Community Champions, Kindness Armies, Performing Arts performances, Youth Speaks Debate Teams, our Westhoughton Award, Honours Programme and Level Best Mentoring for targeted cohorts and a myriad more for students to get involved in. Each extra-curricular offer aims to ensure students are self-aware, develop their strengths whilst also pushing themselves further.
Curriculum Implementation: The Macro Curriculum
KS3 Curriculum Structure (Years 7-9)
Years 7-9 are allocated into 10 form groups which are then separated into two parallel ability teaching bands. Each band (Q and R) is taught in five streamed sets; timetabling allows Maths, English and Science to individually set based on ability and progress within their own subjects with the rest of the curriculum blocked together with setting agreed again on ability. Smaller groups are assigned in Creative Technology to accommodate health and safety recommendations in these subject areas. A Nurture Pathway (S Band) is also scheduled to allow those students identified on entry to Year 7, or during the KS3 phase, as requiring additional support to develop literacy and/or numeracy to receive this whilst still accessing key aspects of a broad and balanced KS3 curriculum. Our S band remains small in nature (less than 5% of the school year) whilst also allowing students to move into mainstream banding when and where appropriate. This also helps form our Literacy and Numeracy 'Catch Up' in Year 7 with support strategies with subject specialists to ensure all students have barriers to academic success mitigated against such as accessing the curriculum with age-related literacy and numeracy.
Subject Code Key: En (English), Li (Literacy), PSHCE (Personal, Social, Health, Citizenship Education), Ma (Maths), Nu (Numeracy), Sc (Science), CT (Creative Technologies = Art and Design Technology), DT (Design Technology), Ar (Art), Hi (History), Gg (Geography), Fr (French), Sp (Spanish), RSW (Religion, Society and Wellbeing), PE (Physical Education), Co (Computing), PA (Performing Arts) and Mu (Music).
| | | | | | | | | | | | |
| --- | --- | --- | --- | --- | --- | --- | --- | --- | --- | --- | --- |
| Year 7 | En | Ma | Sc | *CT | Fr | Gg | Hi | PE | RE | PSHE | Co/Pa/Mu** |
| 48 Periods | 8 | 8 | 6 | 5 | 4 | 4 | 4 | 4 | 2 | 1 | 2 |
*CT= Creative Technology is a carousel of Art and Technology lessons
**Computing/Performing Arts/Music – carousel of subjects, students experience approximately 12 weeks in each subject
Year 7 Nurture
S Pathway
Li
(En)
Nu
(Ma)
Sc
DT
PA/Mu
Ar
PE
*Foundation Steps
(2Gg,2Hi,2Re/ PSHE +4LC inc. Languages)
48 Periods
10
10
6
4
2
2
4
10
| | | | | | | | | | | | | |
| --- | --- | --- | --- | --- | --- | --- | --- | --- | --- | --- | --- | --- |
| Year 8 | En | Ma | Sc | CT | Fr/Sp | Gg | Hi | PE | RE | Co | PA/Mu | PSHE |
| 48 Periods | 8 | 8 | 6 | 4 | 4 | 4 | 4 | 3 | 2 | 2 | 2 | 1 |
Year 8
Nurture
S Pathway
Li
(En)
Nu (Ma)
Sc
Dt
PA/Mu
Ar
Pe
*Foundation Steps
(2Gg,2Hi,2Re/ PSHE +4LC inc. Languages)
48 periods
10
10
6
4
2
2
4
10
Year 9
En
Ma
Sc
Ct
Fr/Sp
Gg
Hi
Pe
Re
Co
PA/Mu
PSHE
48 Periods
8
8
6
4
4
4
4
3
2
2
2
1
Year 9
Nurture
Li
(En)
Nu
(Ma)
Sc
DT
PA/Mu
Ar
PE
*Foundation Steps
(2Gg,2Hi,2Re/ PSHE +4LC inc. Languages)
48 Periods
10
10
6
4
2
2
4
10
KS4 Curriculum Structure (Year 10-11)
Discussions with students begin in Year 9 regarding their interests, option preferences and intentions for post-16 progression. Within their KS4 studies, students are placed into our W or H option pathway (dependent upon the progress and ability demonstrated throughout KS3 alongside work ethic and personal discussions with students/families). All students study GCSE English Language, GCSE English Literature, GCSE Maths, GCSE Science (Combined forming two GCSEs) and will have some time for non-examined RE/PSHE and Games lessons. Some students will follow the W Pathway whereby they will study 4 option subjects (based on their preferences), whilst those on our traditional H Pathway will study 3 option subjects (based on their preferences). To ensure the demand of GCSEs is accessible for all students, students who require additional learning support will be given time in their curriculum to do this whilst also studying 2 option subjects within our Foundation Pathway design. The pathways followed are designed to provide all students with the appropriate opportunity, time and support to be able to thrive and achieve their personal potential such that they are prepared for their choice of post-16 provision and live long learners.
Option Choices within KS4:
Impact
Our students WILL look after each other, aim high, respect themselves and those around them and become lifelong learners. Together, we will continue to improve our community as it transitions from being a traditional community to one that embraces changing values and new opportunities. As a school we are committed to improving the life chances and experiences of those within our community. Life choices and deprivation have a direct impact on life expectancy, our curriculum will support students in making better life choices and have a positive influence on the future life expectancy of the Bolton area.