School Menu
Our current catering supplier is Dolce. Dolce believe in making the lunch service a fantastic experience for the students, parents and the schools they serve. By providing a great range of high quality produce, ensuring each students choice is met.
Our current menus can be viewed below. We also have the nutritional guide below this information is for guidance only. The majority of our food is home-made and therefore the nutritional information may differ slightly from this sheet. We would encourage any students who may have specific dietary requirements to speak with the catering team.
Menu week numbers:
Week 1
Week 2
Week 3
Week Commencing 2023:
4th Sept
25th Sept
16th Oct
11th Sept
2nd Oct
23rd Oct
18th Sept
9th Oct
For More information about Dolce please click here
Dining Facilities
We have two Canteens for our students to use and an outdoor food pod. Years 7 & 8 to use The Glass House – Years 9, 10 & 11 to use The Yard at lunchtime. At break students can use either canteen. Both canteens sell the same which include: Sandwiches, Pizzas, Grab & Go food, hot cooked meals and snacks.
Allergen Advice
Westhoughton High School is committed to a whole school approach to the health care and management of those members of the school community suffering from specific allergies. The School position is not to guarantee a completely allergen free environment, rather to minimise the risk of exposure; encourage self-responsibility; and plan for an effective response to possible emergencies.
The School is committed to proactive risk allergy management through:
The encouragement of self-responsibility and learned avoidance strategies amongst children suffering from allergies.
Provision of a staff awareness programme on anaphylaxis.
The establishment and documentation of a comprehensive management plan where needed.
The establishment of specific risk exposure minimisation practices and strategies wherever required.
Close liaison with parents of children who suffer allergies.
This management approach is congruent with contemporary specialist medical advice, and the School believes educating children to self-manage their condition is a skill attuned to their 'real world' situation.
Discussion with parents should inform the best approach for the individual child. This will take the form of ensuring the allergens are uploaded via sims onto the cashless system which will then send an alert to the cashier every time the students uses the service.
If the allergy is severe then the catering manager would go through the menu and break items they can eat with the student and/or parents/carers, as all the dishes have an allergy sheet, please find links to these below:
Additionally the student must ask every time if they are unsure of a product, to protect themselves from a potential allergic reaction. Whilst, in the majority of cases, we may be happy that we can provide safe lunches, it may well be that parents prefer the element of control they can retain in providing a packed lunch.
Where packed lunches are taken, it is important that children do not share food with one another in case the allergic child unwittingly eats something containing an allergen. The area should be clean with spillages quickly attended to, and all children should wash their hands before and after eating.
Cookery lessons will be given careful thought, particularly with regard to the selection of ingredients and cleaning procedures. Again, students must self-manage this by informing the teachers of their allergies.
Cashless Catering
Westhoughton High School operates a cashless catering system which provides lots of advantages for the school, students and parents:
Quicker service and shorter queues at lunch and break times
No more looking for change every morning, accounts can be quickly credited online via the ParentPay system
Discourages dinner money being spent in shops outside school for unhealthy snacks such as chocolate and crisps
Automatic 'Free School Meals' allocation with students remaining anonymous
Parents can receive reports of the use of the system.
Information about Free School Meals
Bolton Council has a duty to provide free schools meals, which comply with national nutritional standards, to eligible students. The Council also has a scheme to help families buy essential school clothing. If for some reason you feel you do not qualify but still have remaining concerns or difficulties, please do not hesitate to contact us in confidence. Ask to speak to Debbie Arstall at school on 01942 814122.
Eligibility
You can get free school meals and school clothing allowance if your child attends a local authority maintained school (not private) and you receive one of the following:
Income Based Job Seekers Allowance
Income Related Employment Support Allowance
Income Support
Universal Credit
Child Tax Credit only with an annual income of less than £16,190
Pension Credit – Guarantee Credit
Support under part VI of the Immigration and Asylum Act 1999
To be eligible for school clothing allowance the child must be in year seven or nine.
For further information about free school meals, uniform or travel assistance: Tel: 01204 331 590. Alternatively see the website: http://www.bolton.gov.uk/website/pages/Freeschoolmealsandschoolclothingallowance.aspx
Contact Details
If you have any questions or suggestions about the school's catering service please contact School via the main school reception, thank you.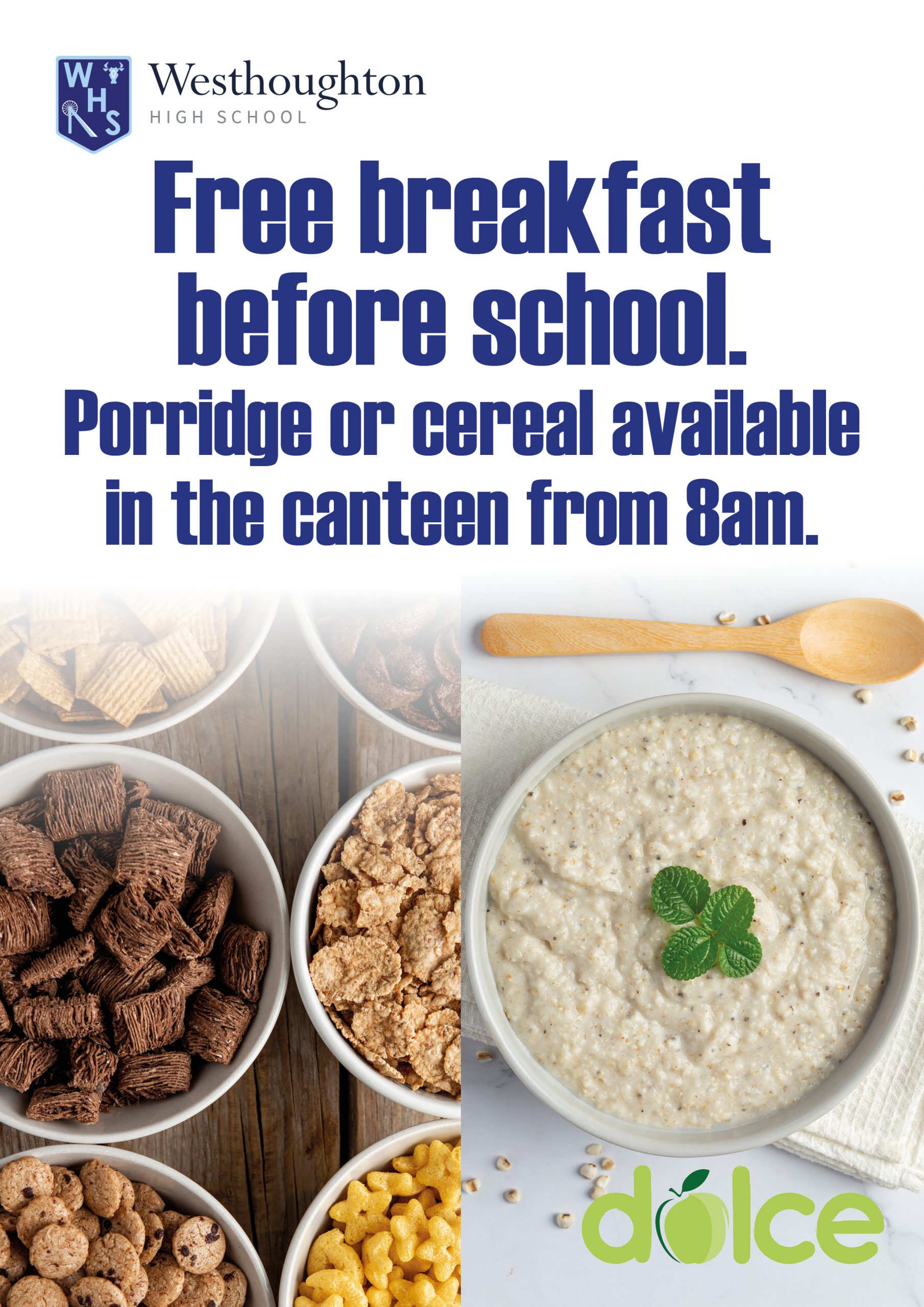 Dolce showcase at our latest Open Evening